Post by Ransac16 on Nov 1, 2012 11:28:58 GMT -5
I had an idea for a mission and wanted to make sure it was documented for review. References to James Bond are unintentional. This article is subject to change.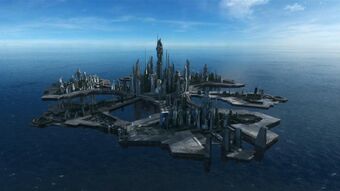 Situation:
Atlantis, the floating city, has just been rediscovered off the coast near Diggen's Rock. The city has been discovered to have been converted into a large UE base and may be the source of the recent attacks against the Unicorn HQ. The city is surrounded by numerous anti mobile suit turrets but HQ received a brief distress call revealing that the UE has imprisoned the remaining population of the city below the central tower.
Objectives:
1. A small squad shall parachute into the city from high altitude and make their way to the power plant, avoiding detection as much as possible. Once there they will disable or destroy the facility and initiate phase 2.


2A. Once power is down the team will split up, one group to defend the power plant, the other to rescue the hostages. With the power out UE forces will be confused and the turrets disabled, allowing mobile suit teams to move in and launch an assault, allowing rescue aircraft to recover the team and hostages.

OR


2B. The team will destroy the power plant and make their way to the hostages. Doing so will sabotage a hidden mobile suit factory in the lower levels and overload experimental mobile suits being produced there, preventing them from being recovered.


3A. Once the hostages are rescued a group of Beetles will initiate the rescue, taking them out of the city and bringing the infiltration team to a nearby carrier to sortie in their mobile suits to capture the city. City is taken once all enemy mobile suits are destroyed, disabled, or forced into a retreat.


3B. If rescue from the air is impossible, the team shall make their way to the underwater hangers in the city and hijack a UE submarine, using them to escape with the civilians without the UE detecting them. They will then make their way to the carrier or the mainland.

Required Gear for Ground Team
Bullet Proof Vest


Servo Leg Braces


4 clips of extra ammo


Parachute


C4 Pack x2


Gun or weapon of some kind


EMP Grenade (up to 5)


Touch Com


Any grade medical/first-aid kit


Flare Gun


Electronic Binoculars

Rewards
Infiltrator rewards:
550,000 Credits


Red, Blue, or Orange Haro (no stat bonuses until official release)

Pilot Rewards:
Faction rewards:
Tier 5


One million credits plus individual/role rewards


+10 Character Stats


Atlantis, a floating city defended by powerful anti mobile suit turrets. This city is one of the few remaining remnants of the Old Era before The Fall. Once a great city of technological development, The Fall killed off many of its resident scientists and separated it from the outside world. The city itself survived largely intact and was in the process of rebuilding before the UE seized control over it. After capturing the city the UE stripped it of most of its greater technologies. Includes a mobile suit factory should the power plant be left intact.


Mass Driver